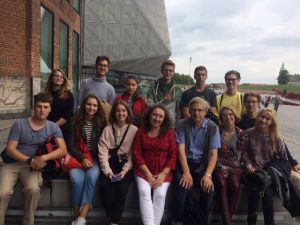 Tolv unge russiske studerende besøgte i August 2018 Danmark, for at lære om vores dagligdag, vores syn på demokrati og om aktivt medborgerskab.
Gennem samvær med elever fra Espergærde Gymnasium, Krogerup Folkehjskole og IPC og gennem besøg i private hjem i Helsingør og København fik de gode diskussioner med unge danskere om livet i Danmark.
De blev introduceret til lokale demokratiske institutioner gennem aktiviteter på Helsingør Rådhus i samarbejde med ungdomsrådet i Helsingør. Frivilligecenteret i Helsingør introducerede dem til frivilligt arbejde, bl.a ved besøg i Vapnagaards frivillige haver.
En af deltagerne evaluerede besøget således:
I love Danish democracy very much. When people sit down together in the evening and discuss what they will do tomorrow. I love people who meet you in any home with a host. I love the infrastructure of Denmark and bicycles, soon I will be a real Dane in Moscow
 I learned how to work in the garden,
I learned to respect other people's time and wishes
I learned to listen to people around me, because nowadays it is important to be able to listen. In Denmark, people are ready to discuss and listen to everything
   I'm happy to promote this way of life, as in Denmark, I would like for people in Moscow to turn city into a city of love and happiness, as in Denmark. To teach people patience, to teach people to love and respect each other.
 Læs hele rapporten her